Things You Need to Know about New Age Payment Banks
Written by- Anika J.
Category – Finance
Payment banks are the latest trend in the Indian banking industry. They've been brought around by the Central government to provide financial and banking services to the remotest corners of India. The Reserve Bank of India has kicked off financial transformation by issuing license to 11 payment banks in August 2015. This includes big names like Airtel, FINO Paytech, Paytm, Reliance Industries, Aditya Birla Nuvo and Vodafone. A couple of these big players have started nationwide operations. The traditional banks have failed to provide banking services in many parts of India whereas the telecom service providers like Vodafone, Airtel, and Idea have deeper penetration in rural India. Payment banks intend to use the distribution network of service providers to provide banking services.  
Unsure of what payment banks are? Read on
Payment banks are very similar to traditional banks but are catering to small transactions that do not involve any credit risks. Their main objective is to promote small savings, provide payment services, and to ensure delivery of subsidies to every household. Financial inclusion has been the focus area for the RBI in recent years since, almost 2/3rd of the Indian population has been living in villages, due to which around 50% of the people in India do not have access to the banking facilities.
Hence, payment banks will prove secure banking transactions using digital mediums to larger masses people in the country living both in rural and urban areas. The payment banks use the mobile data for enabling the secure banking transactions using the mobile wallets and digital technology to provide better financial inclusion. Payment banks will provide cashless transaction whenever they need to make one using the digital media.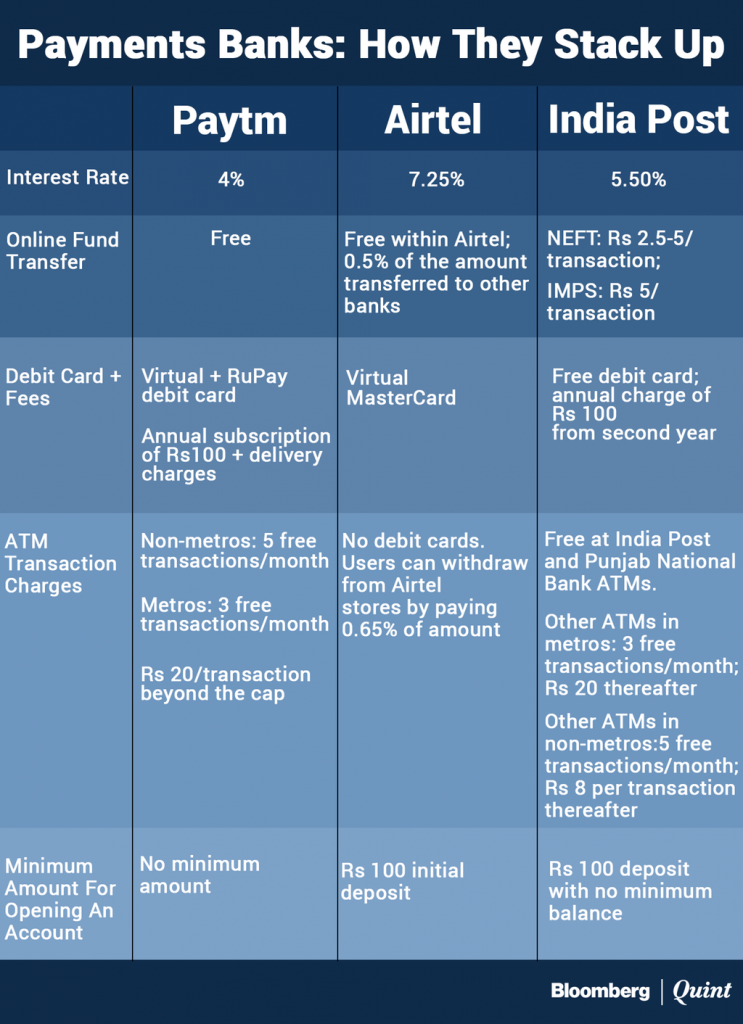 There is just one limitation in case of payment banks. They can accept deposits just up to Rs.1 lakhs, offer services like debit cards and remittance, but cannot advance loans as of now.
The scope of payment banks:
Here are the guidelines prescribed by the RBI in respect to payment banks:
What they are allowed to do:
Accept deposits: Payment banks can deal in deposits and remittances only up to a sum of Rs.1 lakhs.
Bill payments and debit cards: Payments banks will be empowered to accept bill payments and also issue debit cards on demand.
Insurance, pension plans, and mutual funds: Payment banks can indulge in distribution of financial instruments like insurance, mutual funds and pension products.
Forex cards to those travelling outside India: They can issue forex cards to travelers.
What payments banks are not allowed to do:
Not allowed to trade in credit: Payment banks are not allowed to advance loans or indulge in lending activities. They cannot issue credit cards, too.
Not allowed to accept NRI deposits:- For regulatory reasons, payment banks cannot accept deposits made by non-residents
Restrictions on undertaking non-banking financial activities: Non-banking financial activities cannot be undertaken.
How payment banks will impact the economy and the current banking system:
Improved financial inclusion: Despite the fact that the government encourages traditional banks to open more branches in rural areas, neither is it practically possible nor it is financially viable for a bank to open branches in every village of the country.This is where payments banks come in.  There is a wider penetration of mobiles in the country that can help providing low-cost banking services to the people across the country and accelerate the growth of cashless economy in India
Reduced cost of banking: The consumers will be the ultimate beneficiaries when payment banks give competition to the banks which will help in reducing the cost of banking. A lot of private banks have been making huge profits by accepting deposits at lower interest rates and advancing loans at higher rates.However, with the arrival of payment banks, this is bound to change. A huge market share of deposits will be absorbed by them since they will offer higher interest rates.
Convenient banking: Payment banks will offer convenient banking transactions right at the fingertips of consumers. The mobile banking transaction facility will allow the consumers to transact anytime and anywhere without having to visit the bank.
Beneficial for government: The money collected by payment banks in terms of deposits will be invested in government securities only. Hence, there will be lesser risk of default and government will also benefit by getting access to a large amount of funds at cheaper rates.
Elimination of black money: With the reduction of cash transactions and encouraging people to use e-transactions by the payment banks will help in curbing the black money in the society. The digital transaction will help in tracking all the transactions that will help in keeping a check on tax evasion.
Reduced dependence on cash: Payment banks will be backed by the mobile wallets that can be used for the purpose of making and receiving payments electronically. Also, linking the Aadhar cards, Jan Dhan Yojana Accounts and payment banks especially the "Indian Post" will enable efficient delivery of subsidy to the poor which will be a huge transformation for social welfare schemes.
Traditional commercial banks will experience a huge customer shift: The higher rate of interest on the saving accounts and deposits in payment banks will prompt huge customer base to shift from commercial banks to payment banks. Also, the traditional banks will experience a huge reduction in the income from charges on cash transfers, demand drafts, ATM transactions, etc.
Reduced Statutory Liquidity Ratio (SLR) burden on the commercial banks: Presently, the conventional banks have to park 21.5% of their deposits as SLR. This provides huge borrowing opportunity to the government but encourages lazy banking too. The payment bank will have to invest 75% of their deposits in G-securities which may help in reducing the burden of SLR on traditional banks.
The bottom line:
Payment banks are all set to revolutionize the face of Indian banking system. However, one needs to understand that they cannot completely replace the traditional banks since the payment banks cannot provide all the services provided by commercial banks. Also, most of the commercial banks have been investing heavily in their I.T. infrastructure so that they can provide same digital services as that of the payment banks. As stated earlier, the end result of this will be an improved and simplified banking system.