In Focus: Startup Weekend Pune 2016
"Never put off till tomorrow what you can do today."
A lot of people dream about launching their own company someday. The problem is, that 'someday' never arrives. Just like all those other dreams of writing a book, traveling the world, and learning a new language; starting a new venture remains a far-fetched aspiration. It lingers at the back of your mind, and nips and pecks at you as you go about your mundane tasks. You make a bucket list, you read motivational quotes for hours on the internet, you seek advice from your friends, but you never just sit down and start working on the goal.
Ideas are great, but they are pointless if you don't act on them. With that in mind, Startup Weekend Pune launched in 2007, with the aim of helping people start their company over the weekend. The philosophy is simple- if you want to do it, you might as well do it now.
Startup Weekend happens all around the world and has had close to 3,000 events till date. WittyPen was lucky enough to be the official content partner of the Pune edition of Startup Weekend, held during 2-4 September 2016. It took place at the Indian Institute of Science Education and Research (IISER), Pune. Powered by Google for Entrepreneurs, this event brought together mentors, sponsors, investors, and founders; to experience the highs and lows of the startup life.
Day 1 at Startup Weekend Pune: Meet, Pitch & Team Up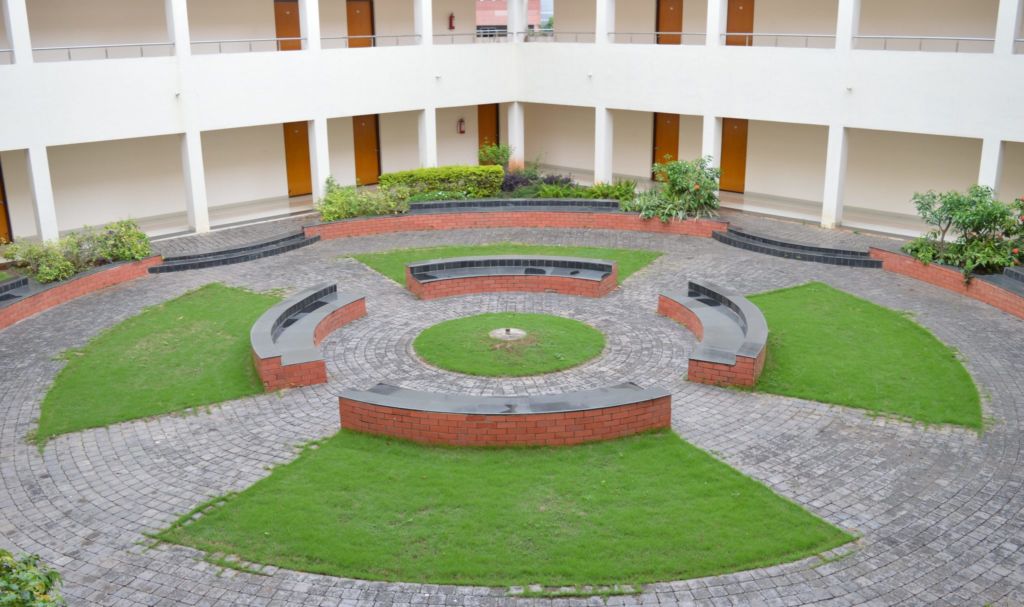 Meet
We arrived at the tranquil and abundantly green campus of IISER, Pune on the evening of 2nd September, with high hopes and a thirst for new experiences. On our arrival, we entered a hall where there was a long table laden with food, and people were chatting and eating all across the room. There was a fourth-year student at IISER, who was extremely excited as it was his first time at such an event. Another participant was an Infosys employee, with an idea for his own startup. People had come to attend the event from all over the country – Banglore, Kolkata, Delhi, Nasik, etc. We met the volunteers who were responsible for this hub of ingenuity- Kaustubh Tarmale, Amitosh Gautam, Naman Kalra, Ameya Pore, Aditya Kabra, Dilip V, Snehal Bhartiya, Minal Wable, Anurag Singh, and Sanyukta Deshpande- all students at IISER. The room was bustling with energy, and everyone had the same thought on their mind – that they were part of something much bigger than themselves. While we all got to know each other and exchanged creative ideas, the same thing was happening all across the world. WittyPen formed a good rapport with the participants, who were extremely amicable, and distributed our bookmarks to book lovers.
Speech and Pitches
After the sumptuous dinner, and the networking session, we moved to the conference hall for the program. The facilitator of the event was Raman Anurag, a travel blogger and an associate at JP Morgan, who has organized 4 Startup Weekend events and facilitated two. Sporting a T-shirt that read "Stop Predicting the Future, Just Build it," he started the program with great vigor, introducing the first speaker for the evening – Balaji Vishwanathan.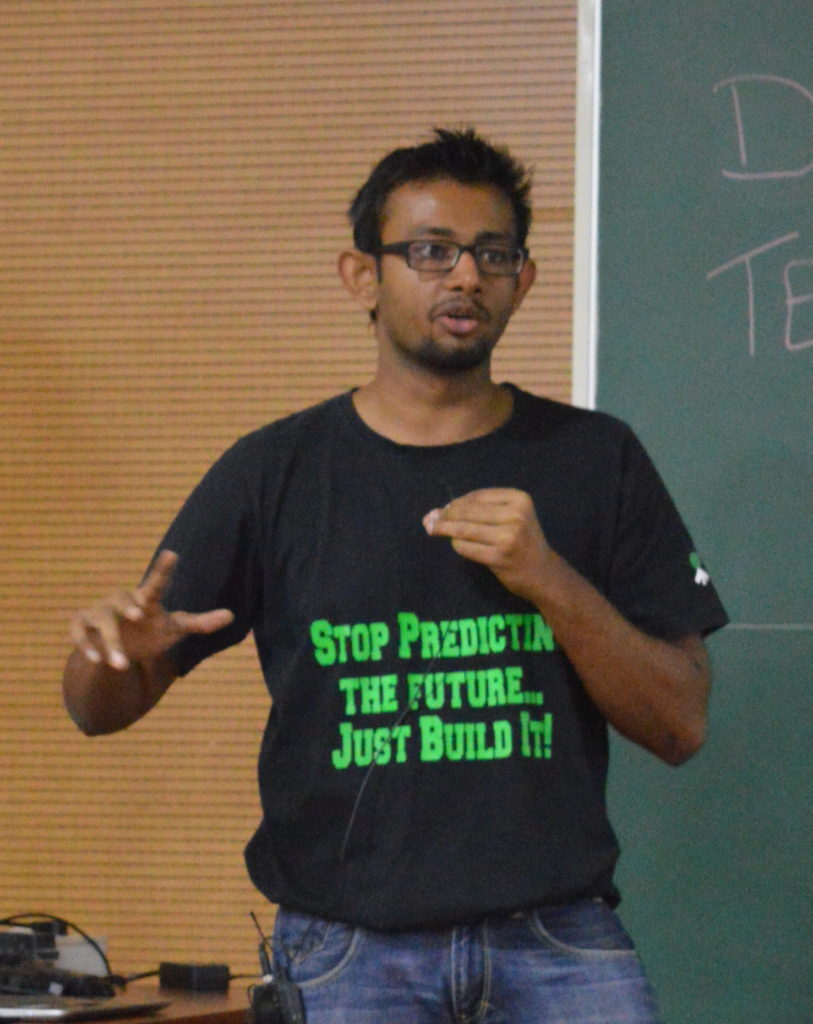 Everyone had been eagerly waiting for this. An author, entrepreneur, and engineer, Balaji Vishwanathan is probably known best for his rich and knowledgeable answers on Quora. He is the mastermind behind the browser productivity application 'Limitless,' and the Makerspace 'Invento'; but his attire did not boast of his accomplishments and fame. Clad in a shirt, and jeans, he got straight to the point, asking the audience about their definitions of a startup. "Trying to solve a problem other than the corporate way," someone shouted from the crowd; "solving a problem in an innovative way," another voice answered from the audience. In Balaji Vishwanathan's words, a startup is an organization "put together to discover a business model." He stressed how a startup can change direction quickly, how it can "pivot like a jet ski"; whereas, big companies are like ships, they cannot turn easily. He told people that if someone doesn't like their startup idea it doesn't necessarily mean that the idea is wrong, but perhaps the customer base is wrong. He ended his speech by saying that instead of selling their products to neighbors, entrepreneurs must sell to the people who will actually benefit from the product or service their startup is providing.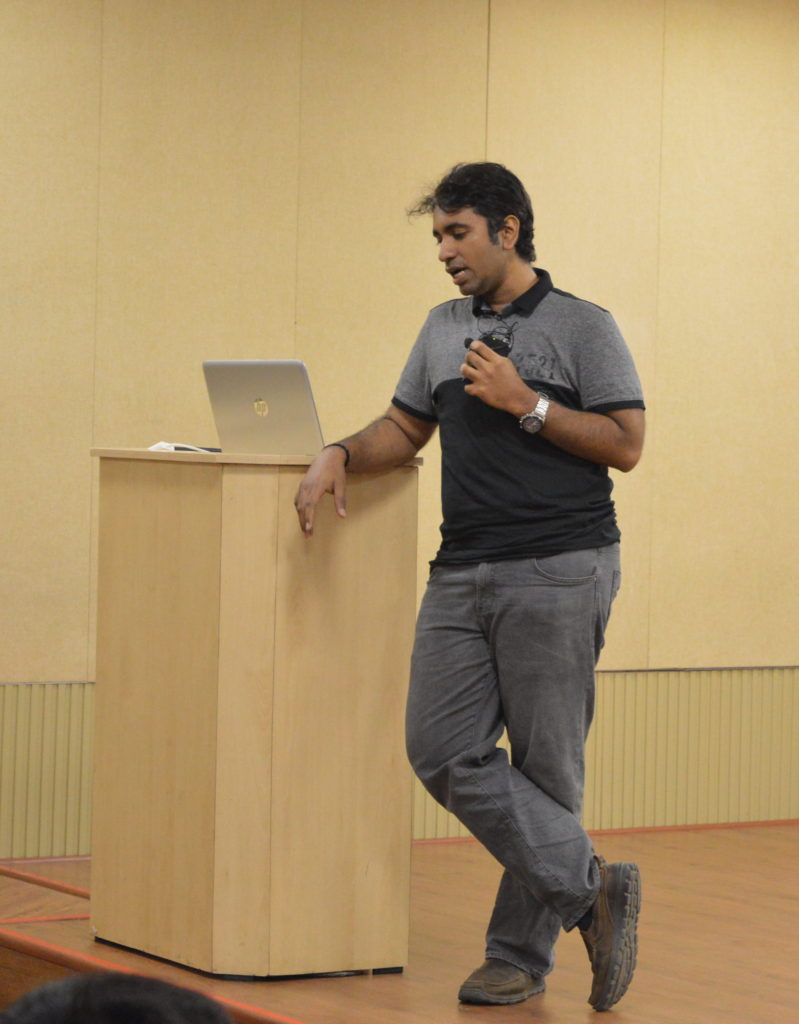 After the insightful speech, the participants played a game called Half-Baked. The facilitator, Raman Anurag, divided the room into 5 groups. Each group had to come up with a new idea for a startup in just 4 minutes and choose a team leader who would get 30 seconds to pitch. There were some really creative ideas –a startup to revive dead startups, a startup that would allow students to bid on the last bench, and many more unique and out-of-the-box mock-pitches. The game set the mood, and everyone was excited to hear the real pitches, so we quickly got started. There was a total of 32 pitches. The ideas covered diverse domains like hobbies and crafts, medical care, music, entrepreneurship, etc.
Team Up
After the pitches, the originators of the ideas wrote the gist of their pitches on chart papers and stuck them onto a wall. All the participants of the event took some time to read the chart papers and selected a team they wanted to be a part of. Out of the 32 pitches, 16 teams were formed. After the team formations, people wasted no time in getting started. They had just the weekend to come up with a Minimal Viable Product (MVP). Some people rushed to Balaji Vishwanathan for advice and WittyPen tagged along. He was not only informative but charming and humorous, telling us that he had worked on the Windows Phone 7 team but had never owned a windows phone! He ended the discussion by telling us about the  Maslow's triangle, which has the following 5 levels:
Psychological
Safety
Love/Belonging
Esteem
Self-actualization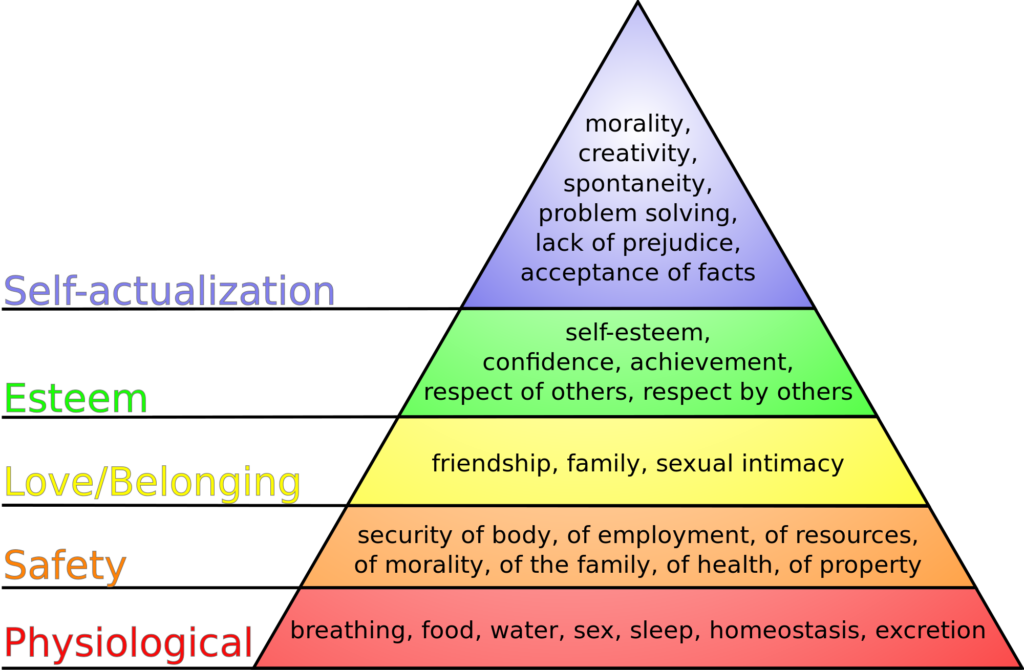 Image Source: edutopia.org
According to him, companies are started by people who have crossed the first four stages and are now in the self-actualization state, embracing creativity and problem solving. On that note, WittyPen called it a day and left the participants to work on their startups.
Day 2: Learn & Work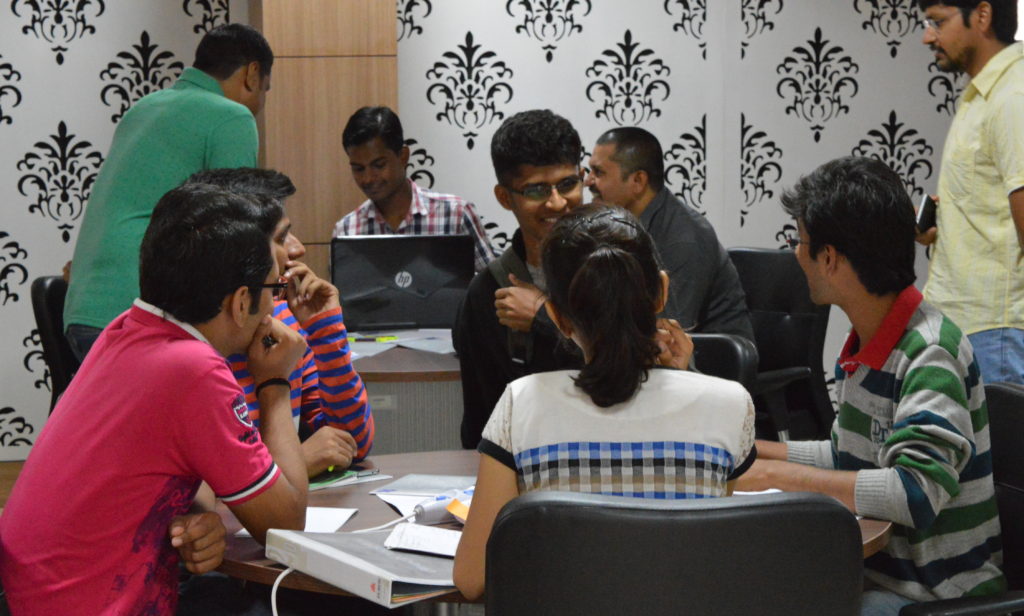 Next day, 3rd September, people continued to jog their minds. Teams could be seen crowded around tables, some with their heads in their hands, others smiling and laughing. To help them with their work, Startup Weekend invited the following coaches and mentors:
With the help of these mentors, the teams decided what would be their customer base, worked on forming a revenue model, and came up with catchy names for their startups.
Day 3: Present and Celebrate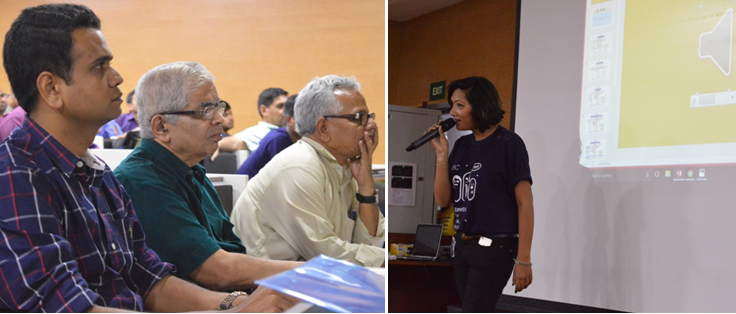 On the final day, 4th September, the preparations and coaching went on until late afternoon. Then people got ready to present their startups on stage in front of the audience and judges. The nervous energy in the room was palpable. People were excited and anxious at the same time. All the work they had put in during the day and the previous night would be judged in a few moments. The audience was eager to find out how far the presenters had come from the first day when they pitched their raw ideas. The speakers had to present their products or services in front of a panel of experts and the audience. They got 5 minutes for their presentation, followed by a question-answer session with the judges. The judges were very interactive. They not only asked questions but also gave suggestions to help the startups in the future. The judging panel consisted of:
Arvind Natu
V. Deshpande
Nikesh Shah
The 16 team presentations, in order, were as follows:
Science Innovators
The Blue Box
Right Employee
Happy Hours
Sleek Guru
Tan Tricks
directOdoctor
Co-Findo
That's My Story- Bachelor's Accommodation
CloudEDA
Spurr
Dot
OyeSale
LiveArt
Farm Fresh
First Help Drones
Some of the speeches were noteworthy and stood out from the rest, like the performance by team LiveArt, a platform for local musicians, who opened their speech with a song. After the presentation, we moved to the auditorium for the award ceremony. Everyone waited with bated breath for the results. The first announcement was the award for the Crowd Favourite, which went to OyeSale- a cell phone application that displays offers from local stores, while also providing a platform to merchants to market themselves. The second and third place were tied between Suprr – an initiative to provide the public Indian standardized Do It Yourself Kits for hobbies and crafts, and LiveArt – an online platform to connect local musicians with people and pubs looking for performers. WittyPen gained a wealth of experience from this event and wanted to give something back. So as a token of gratitude, we distributed gift certificates to the participants since startups often need content to promote themselves.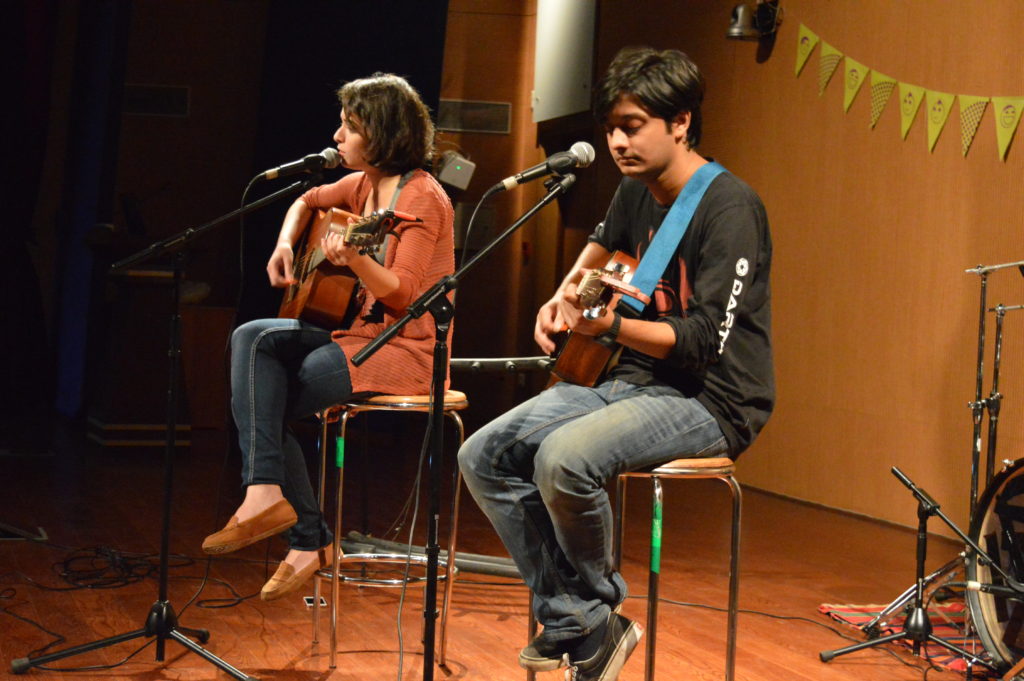 Startup Weekend and IISER, Pune had arranged a phenomenal culmination to the event, inviting NH7 Weekender musicians – Tejas Menon and Malvika Manoj. The young independent artists sang a few original songs, and a few covers of famous artists like Alanis Morissette and U2. The audience was enthralled by their musical prowess and the soulful lyrics. What a marvelous way to end a thrilling weekend! After the performance, all the participants took a group photograph and said their goodbyes, though they were reluctant to leave the event. It was an intense session of 54 hours, yet the participants were not fatigued or burnt out, thanks to the arrangements made by the organizers and the volunteers. WittyPen is so thankful that it got to cover this event, and looks forward to nurturing this partnership. We highly recommend all dreamers, believers, and achievers to attend the next Startup Weekend event. This event is what will change the 'will do' into 'done.'