Have a Look at the Best Omni Channel Examples for Your Content Marketing Strategy
An omni channel content strategy is often confused with a multi-channel content marketing strategy. They may seem similar but are different from one another. Through multi channel you are aiming to achieve various sorts of goals depending on the channel while through omni channel approach the goal set is the same and they are striving to achieve it with different channels. Instead of thinking of a desktop experience, a mobile experience, a tablet experience, and an Apple Watch experience, we'll need to pursue one, holistic approach- an omni channel experience.
Here are some definition given by ​Omni Channel Content Strategy _​_to understand the terms better:
Multi channel Content Strategy:
Provides content suited to a specific factor or channel, such as desktop, tablet, smartphone or in-store. In theory, multi-channel considers more than one channel. An effective multichannel experience:
Strives to provide a collective content experience across all channels
Takes advantage of a particular form factor's strengths
Cross-references experiences across all channels
Omni Channel Content Strategy: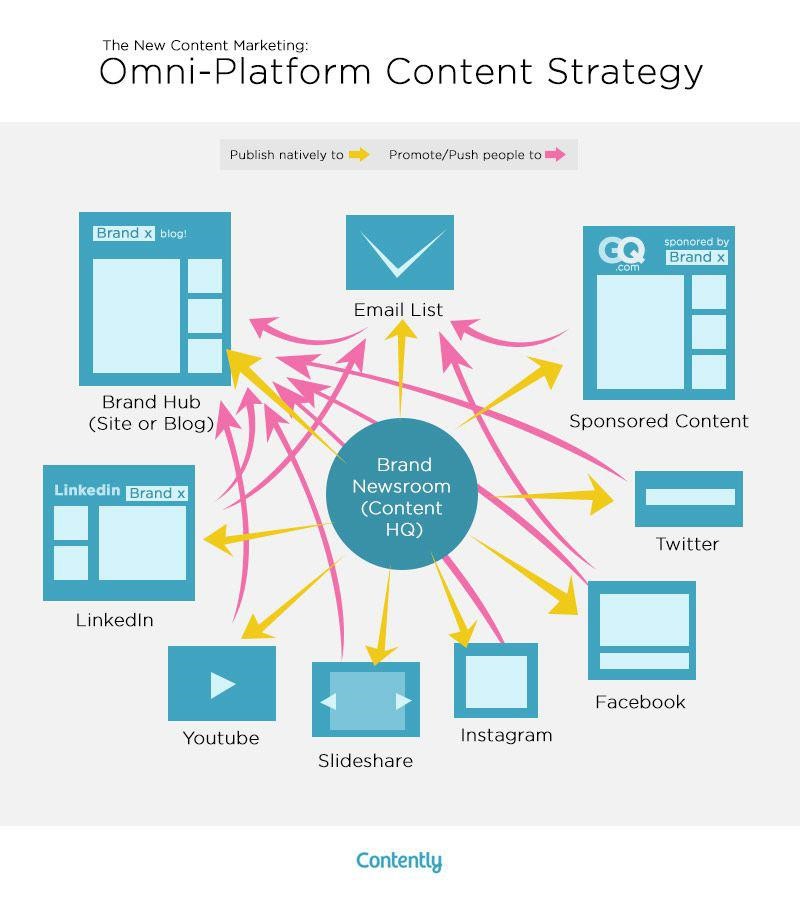 Source: Contently
Is an approach to multi-channel that provides content at every point in the customer journey (analog, digital, in-store). In practice, omni channel strategy is a retail strategy that considers a user and their entire cross-channel journey with a brand, from the perspective of the user.
Omni channel content assumes the overall user engagement with a particular user journey, and serves up content to each step in the process, optimizing channel experiences.
An omni channel experience, accounts for each platform and device a customer will use to interact with the company. That knowledge is then used to deliver them an integrated experience. Companies using this technique align their messaging, goals, objectives, and design across each channel and device.
Omni channel content strategy extends far beyond its specific niche and medium. It ensures that every part of content reaches the ultimate user providing them with a seamless experience without any data getting lost in providing this experience. According to research by Econsultancy, 87% people believe that brands need to work harder to create a seamless customer experience.
In the words of John Bowden, Senior VP of Customer Care at Time Warner Cable:
"Multi channel is an operational view – how you allow the customer to complete transactions in each channel. Omni channel, however, is viewing the experience through the eyes of your customer, orchestrating the customer experience across all channels so that it is seamless, integrated, and consistent. Omni channel anticipates that customers may start in one channel and move to another as they progress to a resolution. Making these complex 'hand-offs' between channels must be fluid for the customer. Simply put, omni channel is multi-channel done right!"
Importance of Omni Channel Marketing Solutions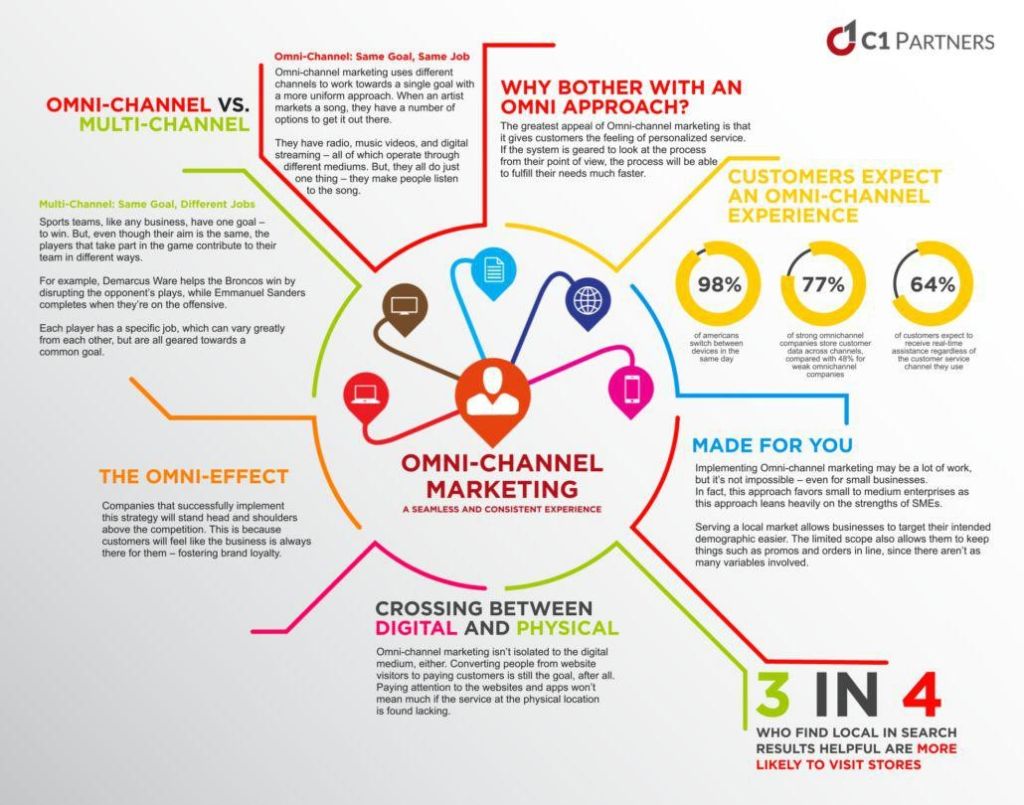 Source: C1 Partners
Buyers interact and connect with brands at a number of different points and in a number of places. Those are both digital and physical. (and even somewhere in between, i.e. digital screens displaying social content at live events).
Consistency of messaging across all of these channels is essential for businesses. Especially if they are keen to make the buying journey as effective as possible. A consistent tone, style and strategy ensures messaging is clear. Also every piece of content adds to a brand's image as a result strengthening not diluting it. Consistency means quality and keeping consumers engaged every time they connect with a brand.
One of the most powerful tools you can utilise to survive, thrive and succeed in the omni channel era is content. In the past, you may have used content attract traffic, engage the interest of visitors and boost conversion. But the role of content in the age of omni channel is gradually evolving to do more than that.
Some statistics from a recent study in to the traits of omni channel campaigns show how important it is:
20% of consumers have used their phone to find or redeem coupons and/or lookup product information while in a physical store.
Personalized mobile promotions increase sales: the consumer is more likely to make an in-store purchase if they can access rewards or promotions via their mobile. A significant portion of consumers are interested in accessing such resources on a digital wallet.
52% of retailers are monitoring social media.36% are enhancing eCommerce sites, or are currently implementing these initiatives.
Retailers are farther behind on improving inventory visibility. To these end, about one-third have identified equipping in-store employees with mobile apps to access inventory + other initiatives to provide cross-channel inventory visibility, among their top 3 omni channel priorities.
Customers now expect to receive service from your organization on the channel of their choice, which might be voice, email, SMS/text, web, mobile or social media. Companies are beginning to provide service on all of these channels – but too often, those channels may exist in silos.
This multi-channel service can be taken to the next level with an omni channel solution that integrates channels to provide a consistent customer experience
Omni Channel Examples
To understand Omni Channel content strategy one must understand the Omni Channel experience. Most of these companies have not yet integrated this in India. Some of te best multi channel marketing examples are:
Disney

Source: Slide Share
Disney is one of the best omni channel examples, as it gets the omni channel experience right, using AI in content marketing, down to the smallest details. It starts with your initial experience on the entertainment giant's beautiful, mobile-responsive website. Even its trip-planning website works well on mobile – that alone is something you don't see happening very often. Once you've booked a trip, you can use the My Disney Experience tool to plan your entire trip, from where you'll dine to securing your Fast Pass. In the park, you can use your mobile app to locate the attractions you want to see, as well as view the estimated wait time for each of them.
The imaginative company takes it one step further, though, with the release of its Magic Band program. This tool acts as a hotel room key, photo storage device for any pictures taken of you with Disney characters, and a food ordering tool. Plus, it even has Fast Pass integration to keep your vacation moving. That's a truly omni channel experience.
Starbucks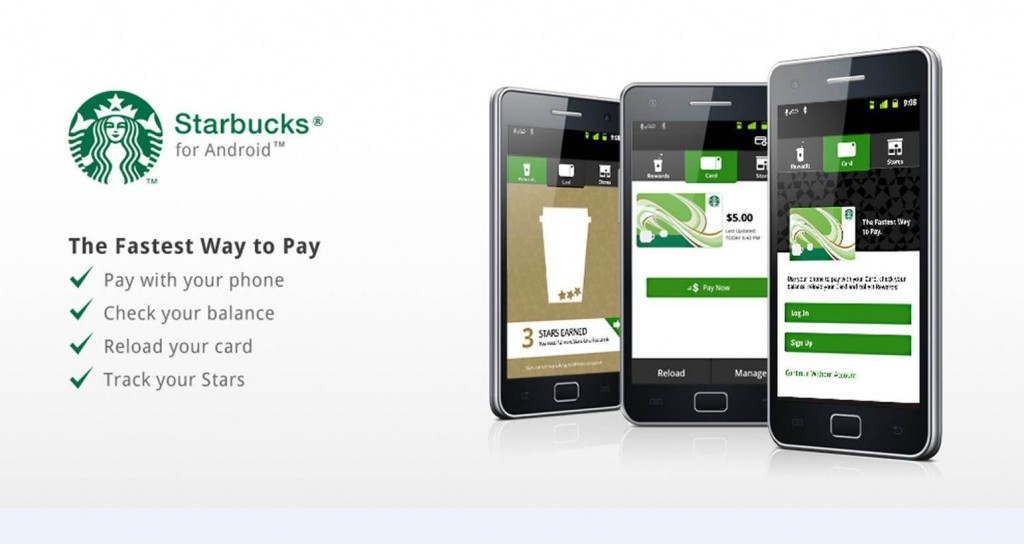 Source: Feedeo Blog
A quick look at the Starbucks rewards app will reveal why many consider it one of the top omni channel examples out there. First, you get a free rewards card that you can use whenever you make a purchase. But unlike traditional customer loyalty programs, Starbucks has made it possible to check and reload your card via phone, website, in-store, or on the app. Any change to the card or your profile gets updated across all channels, in real-time. Standing in line to get a coffee and realize you don't have enough on your balance? Reload it and the cashier will know it's been updated by the time you swipe your card.
Recommendations
Every company must develop its own unique omni channel experience infrastructure, and you'll need to work closely with several departments in your company to develop this strong strategy. While building your own program, look to the following stakeholders.
Product
Marketing
Sales
Customer Support
Customer Success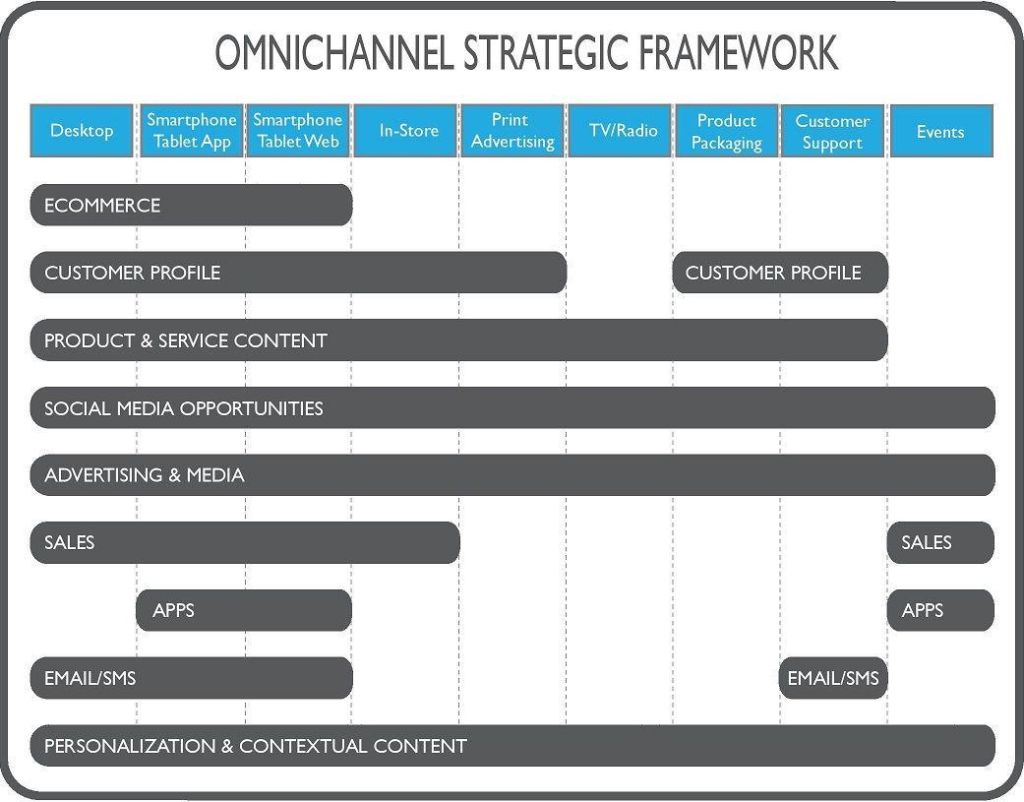 Source: Kevin P Nicolas
1. Look at your Customer's Perspective
Regularly review the experience your customers go through in order to research, purchase, and connect with your products. Test the experience by placing orders, interacting via all available channels, submitting a support case, and more.
Try different devices to ensure a seamless experience. If possible, these tests should be performed by external and internal testers.
2. Segment Your Audience
Understand your audience and segment your audience accordingly. Which data points actually help you better understand your audience?
One can use technology to capture information and build profiles about your customers and their journey.
This kind of rich data can be translated into customer use cases, and also used to build buyer personas. For example, male iOS users who work in the tech industry and are between the ages of 25 and 35 are more likely to buy based on technical specifications. If you discover you are marketing to that audience, you might highlight technical specs in your landing pages and nurturing strategy.
3. Develop Content/Messaging that Addresses Use Cases and Behaviors
Content and messaging is key. If a customer has previously engaged or purchased your product, you probably want to consider that in your marketing. If a customer has put something into a cart, but hasn't yet purchased, use your content to reference that intent in emails like Amazon practices.
This type of content and messaging makes consumers feel personally spoken to, and helps drive much higher engagement, loyalty, and purchases.
4. Don't Limit Use Cases to Marketing/Sales
Consider how listening and responding can help your support team, product team, merchandising teams, and even your customer service efforts.
In a recent article on Digiday.com, GM's head of global social media strategy was quoted as saying:
"A lot of it is about being able to provide a better service for our customers. If we can plug social into all the other CRM [Customer Relationship Management] data we have, then we have a full portfolio on the customer. If we know their VIN [Vehicle Identification Number], if we know their name, if we know their Twitter handle, and we know whether they like to go to the dealership or they don't like to go the dealership, this helps us treat them in a way that they want to treated."
5. Start Today!
There's too much at stake in your business to delay taking that first step any longer.
Consumers may be ahead of many marketers now, but this soon won't be the case. Those marketers who thrive will be the ones who can deliver on the promise of a personal, omni channel experience.
Once everyone understands the goals and objectives of your omni channel initiative, you can start planning your transition to this model. Including these departments early on will make it easier as you try to shift into an omni channel way of doing things — it's less of a headache down the road when you get people excited in the beginning.
Ultimately, your strategy should consist of a strategic plan to build a coherent, aligned experience across multiple platforms, which may include any or all of the channels featured in the above graphic.
Because this is still a relatively new emerging concept, there's still time to start small and expand in the future. And if you need some inspiration, you can find plenty of companies that have already implemented fantastic omni channel user experiences
Conclusion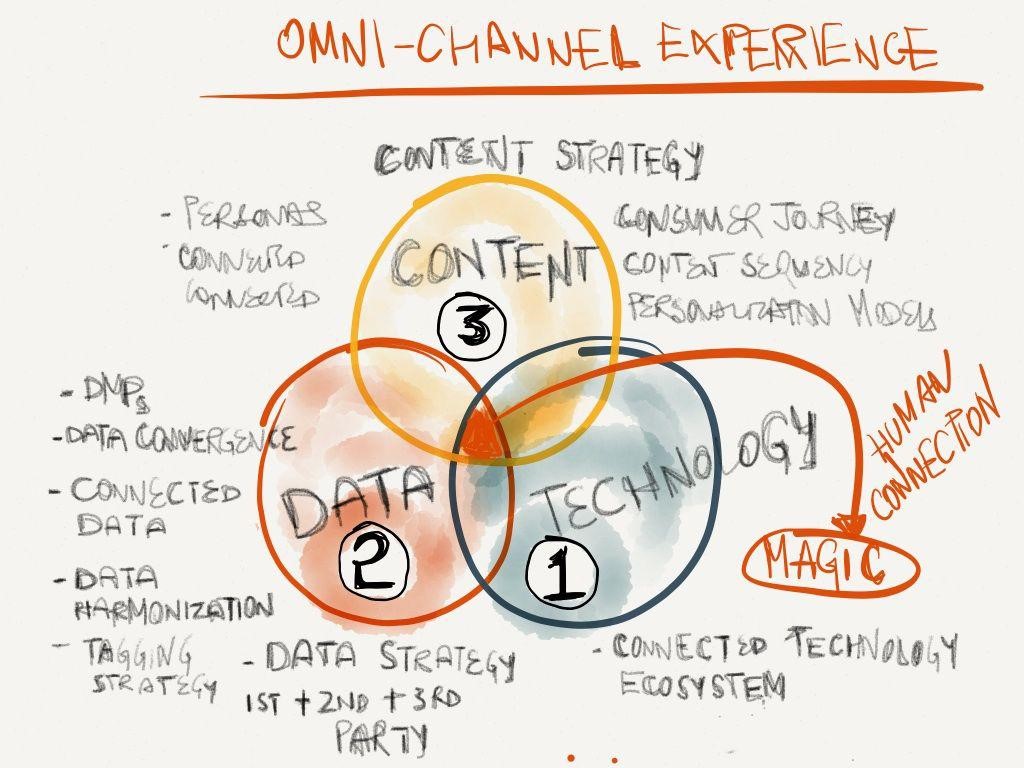 Source: The Growth Machine
Most digital teams have access to a huge range of tools which allow them to boost their content distribution. However, what they lack are tools that aid consistency and coordination across multiple channels, both on the web and "IRL".
Investing in processes, reshuffles and technology which boosts these assets across mobile, TV, video, messaging, gaming, display, CRM, email, direct media and social media channels could make a huge difference to brands. It enhances their brand image and ensures consumer engagement properly every time they interact with a business.
Take heed from the above omni channel examples and use your content marketing resources accordingly,form a content distribution strategy.
As the lines between these mediums become ever-more blurred, brands which embrace omni channel content marketing stand to win big.