Have you ever noticed how Shopify has promoted a huge amount of useful and in-depth content, blogs, and guides that are full of tips, recommendations, and tricks from well-known influencers?
Its information center is packed with content, comprehensive guides to starting and growing an e-commerce store, videos, Podcasts, Case studies, and success stories.
Such content not only generates leads but also helps build trust between the brand and its users.
This is where content marketing features when it comes to SaaS businesses!
The web is full of generic sales flyers posed as white papers and promotional blogs that aren't so subtly designed to boost sales.
However, even today, 88% of businesses use content marketing in SaaS because of the umpteen benefits it has brought to the business and the consumer. SaaS organizations need to create content that focuses on customer buying decisions, enhances qualified leads, improves organic search results, increases inbound links, and drives them to sales.
This shows that content marketing in SaaS is an extremely powerful tool for a lead generation without looking "commercial." 85% of the largest SaaS companies use content marketing, and that number seems to be growing every year. However, not all content is capable of producing leads and conversions!
We also cannot ignore the content clutter that exists in this $157 billion SaaS market.
The goal of SaaS content marketing is to create content that stands out in its technical world of jargon, complex procedures, mathematical code, and complicated algorithms. Content is king, especially for SaaS businesses
that help in building brand sentiment, building brand credibility, and eventually enhancing sales.
Still not convinced! Let's look at some facts, figures, and examples!
82% of consumers have a more positive view of a business after reading personalized content, and 90% find personalized content useful.
The number of backlinks is one of the key factors for top-ranking websites.
Let us take another example that has developed top-notch content marketing in SaaS.
Moz has diversified its approach to creating and promoting content. Rand Fishkin's Whiteboard Sessions have been an integral part of the offering for years. Moz's unique content strategy has skyrocketed brand visibility in the B2B world and positioned Moz as the go-to place for SEO tools.
In addition to its wide range of workshops, training courses, blog posts, and informative guides, Moz regularly produces a massive amount of content. Along with tips from the internal team and influencers adding extra credibility with guest content, Moz has built a thriving community that keeps the brand in the spotlight with B2B customers.
Key takeaways so far
Because SaaS content marketing require a long-term relationship with the customer, the content is essential to shape that relationship.
The content marketing strategy for SaaS increases brand awareness and improves ROI.
SaaS brands can drive education around their products using content.
What's Different About SaaS Content Marketing?
Each company needs content marketing to grow organically – and this also applies to brands that offer SaaS products. The SaaS and Tech sectors are unique. Your audience is constantly trying to learn and grow professionally. SaaS content marketing strategy can be sometimes a little complicated because of it:
Requires a certain level of engagement, because of which building reputation and trust is essential
Involvement of decision makers and influencers because of longer sales cycles
Digital platforms contain technology, which can be difficult to understand at first.
Therefore, the Content marketing strategy for SaaS helps customers hone their skills which further builds a loyal community, and creates a sustainable revenue stream for the brand.
Let's take another example – Kinsta, a premium WordPress hosting provider, has created valuable educational content and achieved a massive increase in website visitors. Kinsta talks about topics not directly related to the company's hosting services but focuses on customers' pain points and challenges.
Their blog covers broad topics relevant to WordPress developers and website owners. As of June 2022, they are attracting over 672,000 organic views per month.
How Content Marketing In SaaS Works
In the global report on the state of content marketing, IT and SaaS companies were asked how their SaaS content strategy was performing. Some of the key takeaways are:
65% of SaaS companies have a moderately advanced B2B SaaS content marketing strategy
92% of SaaS companies have some success in their content marketing activities
75% of SaaS companies plan to increase their content marketing budget by 2022
What Is The Need For An Effective SaaS Content Marketing Strategy
SaaS content marketing is more than just a way for users to learn about your product; it is an opportunity for them to contact you. By interacting with your content, they know your brand, your product, and what problems they have that you can solve.
Without content marketing in the SaaS strategy, it will be harder to meet consumer expectations. Consistent, high-quality content is no longer an option when competing with other brands for the top spot on Google – it's a necessity. Content marketing builds brand awareness.
For small and medium SaaS businesses, content marketing is cost-effective and can generate more revenue than traditional marketing strategies. According to DemandMetric, it costs 62% less and generates 3X more leads than other marketing strategies. Informative content helps customers see the value your business can bring to their lives.
15 Essential Strategies For Content Marketing In SaaS
Content marketing conquers it and is responsible for various successful SaaS B2B companies around the world. Follow these strategies and strive to reach your organizational goals:
1. Identify Your Strategic Objectives For Content Marketing In SaaS
A strategic objective is not a measurement or a number. Setting appropriate strategic goals will help you optimize your SaaS content which plays an important role in your business structure and processes. Your business goals could be to:
Increase brand awareness with leads higher in the sales funnel than you previously targeted
Develop a reciprocal relationship with your audience to strengthen your business as a SaaS content marketer and encourage network effects
Create a contact list, with information helpful in determining which contacts are most likely to make the switch from lead to customer
Increase a cumulative flow of monthly leads for your sales force
Provide a steady flow of leads to automated systems
Encourage advocacy and customer loyalty
Content marketing built on SEO principles will encourage brand awareness and enhance the organic search visits which will eventually develop, fester, or decrease based on your B2B SaaS content marketing efforts. If the list structure is stopped, the number of contacts only drops as slowly as the unsubscribe rate.
Therefore, it is important to consider the cumulative nature of content marketing in SaaS when developing your strategic goals.
Let's take this example.
ClickUp is a project management tool that caters to different audiences, from different teams to different types of companies. It is essential to develop differentiated approaches to content. For example, when you land on the ClickUp blog, you can choose content based on the type of work you do and the type of challenges you have.
2. Define Your Stats
Once you have clear strategic goals, it's time to define some beneficial performance metrics when marketing content for SaaS:
Increase in monthly visits per dollar invested
Percentage of new and repeat visitors
Sign-ups per visitor
The average LTV of each unique lead.
Increase in the number of subscribers
The first-touch attribution and the last-touch attribution.
SaaS companies ignore these metrics which can provide interesting insights into the quality of keyword choices, building funnels and lists, and customer longevity. Follow up on financially relevant and strategically relevant metrics that could potentially indicate opportunities, customer feedback, strengths, and weaknesses, of the business
3. Map your funnel
A content marketing in SaaS strategy must include three main strategic goals:
Place the funnel and locate your leads
Expand the funnel
Run leads through the funnel
Consider how natural funnels might be optimized, what other shapes potential sales funnels might take, and how these existing funnels interact with the brand identity you are trying to create. Let us look at a simple step-by-step example of how a funnel can be created at each level: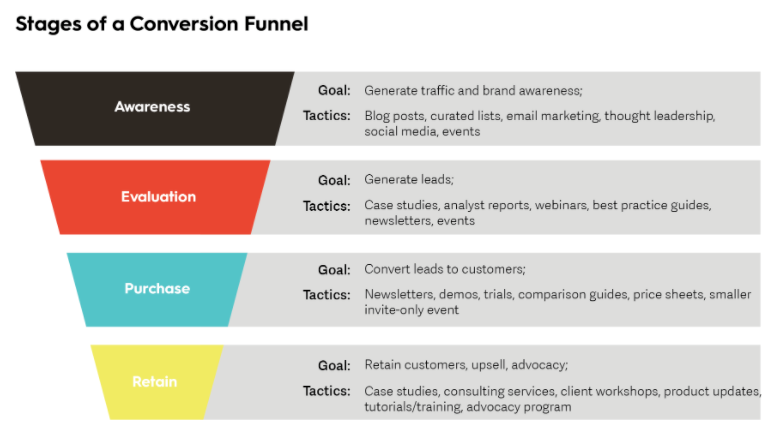 Step 1 – The lead discovers a blog article about a problem that is useful enough to keep the user's attention at the end. The blog article naturally directs him to a resource that continues to support the problem or with a more important problem
Step 2 – The blog post has strengthened enough confidence, and the problem dealt with the resource is shared with him via the e-mail list
Step 3 – Satisfaction with the solutions presented in emails forms confidence in leadership. Leadership is informed of a problem that is solved by its SaaS or your awareness and your interest in this problem are improved
Step 4 – The lead visits a page on your website, which is often visited shortly before buying prospects. A marketing automation event is triggered which sends a special offer to the line
Step 5 – The visitor receives constant content on useful information on how SaaS is used to solve various problems
Finally, the lead uses the SaaS solution!
It is important to create these funnel models, make calculated hypotheses and measure them to improve their efficiency.
4. Strengthen Your Thoughts And Become Creative With Content Ideas
To design an effective SaaS content strategy, focus on the following elements:
Find out your key area, your experience, and your knowledge
Stick to your brand story, the values, and beliefs you want to promote
Identify leaders, stakeholders, and subject matter experts within your organization.
Use your product data to show usage trends, ad management strategies, and more.
Survey your users who have a wealth of information and data ready for thought leadership content
Collaborate with SMEs to bring new perspectives to your content. Employ tools like WittyPen for best results.
Collaborate with brands, other market players, and influencers to bring many great ideas to the table
Do some research and enhance your content with original data and facts.
5. Use Unique Content
Understand customer pain points and create SaaS content that meets these customer pain points.
Not many companies spend enough time creating parts of niche instruments that will appreciate their clients. Look at the creation of things such as business managers, host statistics, and articles that involve people – more than these generic articles that try to respond to keyword research. Find the balance, and use content that's valuable, unique, and educational.
6. Develop A Keyword Conversion Strategy
Many SaaS companies choose keywords that are relevant to their audience, but they don't go any further.
Keywords have the power to resonate with the customer's journey and the buyer's intent. Identify your conversion keywords by collaborating with an effective PPC team to conduct all of your keyword research. The PPC team has great datasets on what they're bidding on and what queries they're converting for the business.
A common business mistake is looking at keyword volume rather than focusing on things closer to the people making the purchase decision. Focus on intent-based low-volume keywords. For example, for "SaaS content marketing", some long tail keywords are
Content marketing in SaaS campaigns
SaaS content marketing strategy
Content development for Saas
SaaS content marketing
You can rely on tools like Google AdWords Keyword Planner, Ahrefs, or KeywordTool.io for competitive research. Pay attention to search terms on popular platforms to see what your target audience wants.
Keywords matter less when you're producing content to distribute on platforms you don't personally own and have a constant flow of its traffic. Avoid targeting "commercial" search terms for your content and showing interest in buying a product unless you are selling it yourself. Search engines are very good at reading user intent. So, if someone types in "buy SaaS", Google won't return your blog post titled "How to buy SaaS".
Try focusing on keywords that indicate you want something deeper than a blog post, like an e-book, a white paper, or a case study to increase subscribers. Avoid cluttering your content with variations of the same keyword.
7. Develop a List Building Strategy
Your email list is the lifeline of your content marketing in SaaS efforts. There is no other
One of the most fundamental ways to stress the importance of a strong list-building strategy is building a robust email list, which is the lifeline of an effective SaaS content marketing strategy.
Most list-building strategies focus on compelling prospects to subscribe. The important thing is to ensure a transparent yet simple connection with your audience through CTAs, blog posts, and your SaaS itself. You can use:
Electronic books
Videos and Images
White papers
Training Courses
30 Day Challenge
Webinars
Original research like data-oriented content, case studies, and surveys
8. Develop An Awareness Strategy
Your awareness of SaaS content strategy can be through publishing and promotion of content. It consequently drives traffic to your site. Here are some recommended steps you can take to enhance awareness of your business, as a SaaS content marketer through content:
Send relevant outreach emails to your subscribers
Include influencers and ask them for an offer to quote them as experts. Let them know once the content is published.
Connect with influencers who want to share the type of content and also mention influencers in your content and let them know when the post is live.
Develop content with specific resource lists.
Add your content to the newsletter, which was organized by known influencers with a large broadcast list
Contact websites connected to similar content. Always provide them with context, don't ask for anything if you don't offer anything, and always initiate the conversation via e-mail
9. Focus On Effective Content Formatting
Regular content production for SaaS is important for Search engines to give an advantage to websites that regularly publish new and updated content. That being said, it's not that hard to produce a lot of new content, especially when you have tools like WittyPen on board. If your content isn't formatted correctly, your audience will struggle to comprehend it.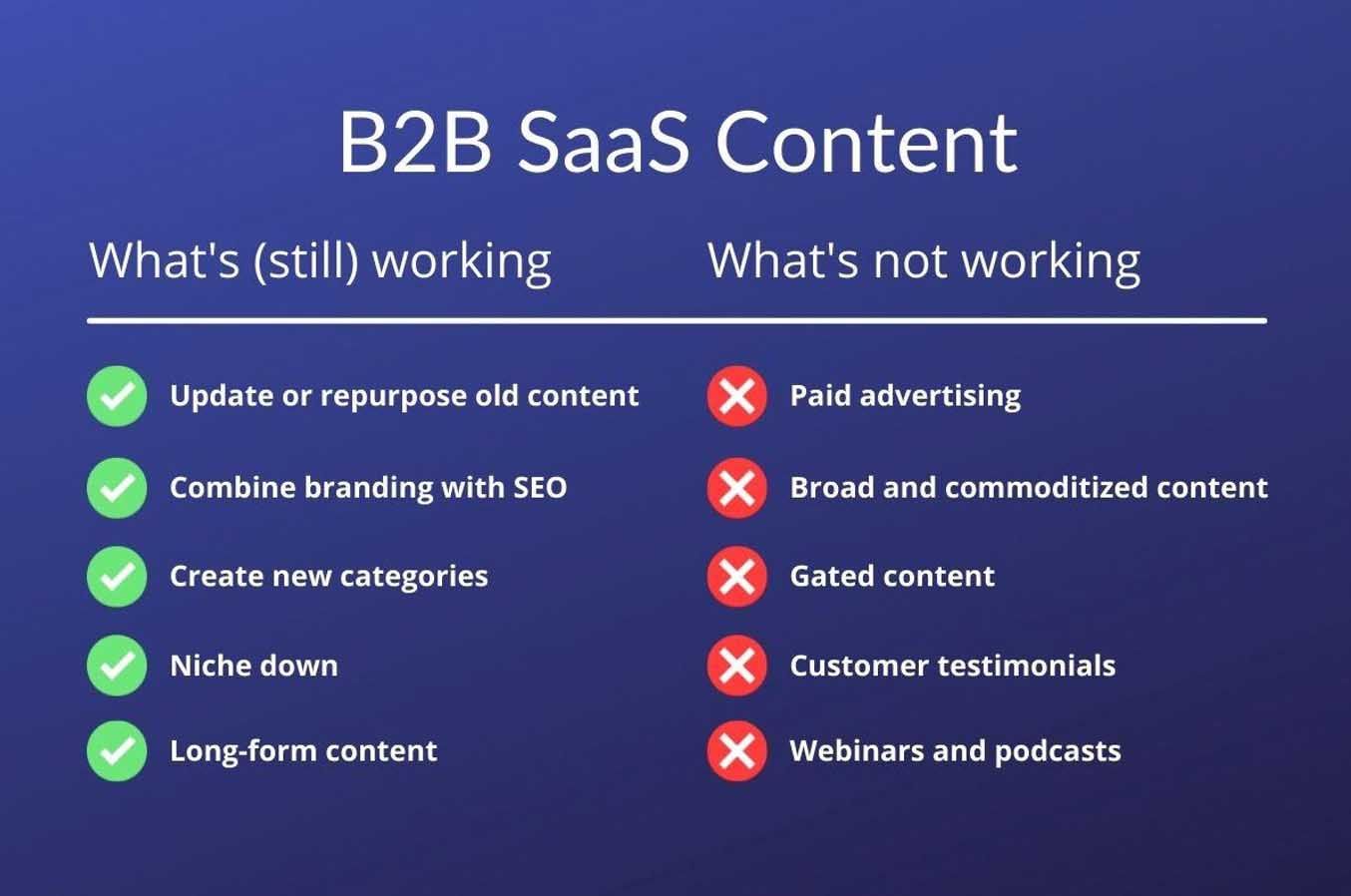 Here are some tips you can consider for formatting your content appropriately:
Keep your content paragraphs short as people have a short attention span online and short content makes it easier to retain information.
Break your content into smaller chunks using subheadings or even bulleted lists.
Leave white space in your content
Don't overload with too much SaaS content that could overwhelm your readers.
Don't forget to add visual images that can improve learning by 400% and can also be processed 60,000 times quicker than text.
Make the content scannable as most readers prefer not to read the entire content but to browse the content to get relevant information.
Put important stages and terms in bold, and don't be afraid to use bullets and underlines to make your content easily scannable.
Provide Valuable and well-researched Information, whether short or long.
You can choose to write short content, but if you don't include relevant information, your content may not rank in search engines like Google.
10. Publish The Content At The Right Places
Go with the 80/20 rule for content production for SaaS and promotion. Creating content is the job half done. It is the promotion that should take up more research and effort. If you spend 20% of your efforts and investment on writing content, you should be spending 80% of your time promoting it.
Getting your content ranked on Google isn't easy these days. Back then, a 700-word you wrote would rank on Google within hours. But with immense competition, this has become impossible. Google now prefers to only rank relevant and useful content. You will need to put a lot of time and effort into creating and promoting content. Promote your well-researched, optimized, unique, and structured content, massively by:
Making your content SEO-friendly to get organic reach
Using paid marketing channels such as Facebook ads or google ads
Publishing content on social media platforms and in relevant social groups
Sharing your content on forums like Reddit and Quora email marketing
Contacting other relevant websites to request backlinks
You will have to put in a lot of effort to promote your SaaS content.
11. Choose Your SaaS Content Creators Wisely
Once you've established your keywords and topics, you should start producing keyword-focused content. To simplify content production for SaaS, you need to set up some procedures like:
Formulating a content calendar with a list of research topics to cover
Make sure the content you want to create is relevant to your target audience
Hire professionals like WittyPen who can help you with content production for SaaS, correction, and modification of content, and publishing or scheduling content. The experts and experienced writers at WittyPen will create a healthy mix of short and long-form SaaS content that will help your business attract a wider audience.
Another reason to pick a professional product is that they charge you less and save you a lot on local costs. Make sure you set a goal for each piece when sharing your content requirements with them. Keep a checklist handy with important points like:
What is your ultimate goal in creating the content?
Do you want to increase brand awareness, get more leads or just inform your target audience about your SaaS business?
When creating your content requirements, research your audience's pain points to make sure your content solves their problems. When planning content, you need to make sure that you focus on consistency and post content often.
Read More : Content Marketing Strategy – Nuances and Importance
12. Target Your Audience
Don't focus on a small or large audience. Instead, do thorough research and look behind the keywords to know the needs of your audience.
Concentrate on:
What questions do they ask on the forums?
What kind of questions seems to be constantly being evaded?
What kind of searches will these leads search for in Google?
Who do they follow on social media?
Which social networks, message boards, discussion groups, and newsletters do they actively visit?
Which YouTube channels do they watch?
What magazines, blogs, and newspapers do they read?
How far can you expand use cases to cover these audiences without being cynical?
Focus on reaching leads who are not yet interested in the business, and create effective and educational SaaS content that can reach a relevant audience for your brand.
While it's nearly impossible to position yourself directly on every platform, you need to know which platforms your audience cares about. This gives you many options to post content, better understand your audience's interests, and identify influencers.
13. Analyze Your Competition
Do a thorough analysis of your direct competitor's backlinks to see where they are mentioned. Analyze their content on keywords and topics and on the platforms on which they concentrate. Use all these data in combination with intuitive navigation to find out how their content marketing in SaaS strategy appears.
Ultimately, these data must help you identify the weak points you can overcome in their content strategy. This can be integrated into a strong USP! Most of them are likely not to have particularly strong strategies for B2B SaaS content marketing. Focussed research will help you outperform them in some areas and discover several new opportunities.
Taking this approach makes it easier to identify your USP as a content provider, and gauge your audience and your competition. You can start formulating consistent SaaS content that resolves the problem and identify ways to promote it on multiple channels
14. Conversion
Customers are looking for offers, prices, specific applications – and everything that helps them make the final decision. Take a look at how web Zendesk copy, white papers, and case studies combine to share tangible results. This can help several decision-makers understand how the service can apply to them before sales discussions.
As soon as you have a distribution list, it is important to promote your users with precious content. While you can talk about your product, offers, and referral programs, you still need to value your audience more than you expect them to.
When your emails are helpful, practical, insightful, or refreshing, people keep reading, subscribing, and being happy.
15. When Creating Content, Focus On Quality, Not Quantity
The B2B SaaS content marketing should focus on search engine optimization and improving the quality of our content. You must focus on
Providing useful, practical, and innovative information while being relevant to the audience's intent
Genuine content based on your expertise covering all potential questions and delivering an excellent user experience.
The written content should match the level of comprehension of the target audience. It should contain visual elements, short and easy-to-read sentences, and help the user to navigate the titles.
Always base your content on the 4 pillars of content writing – enhancing SEO, consistent readability, appropriate tone of voice, and novelty.
Conclusion
Solid content marketing for SaaS accounts for swelling growth, targets varied audiences from all ends of the globe, considers strategic objectives before metrics, uses a cumulative sales funnel as a foundation, thrives on selected keywords, and adheres to a strict but productive cycle.
B2B SaaS Content marketing takes your SaaS business to the next level and maps the entire customer journey.
The SaaS content marketing strategy should be such that it deals with the SaaS industry's biggest challenges like solution complexity, longer purchase cycles, and urgent training needs.
WittyPen easily guides you through the entire process, enhances your online visibility, reaches new customers, and grows your business with organized and result-oriented content marketing.