Freelance Content Writing: Make Your Career In Content Writing
It's no secret that a lot of businesses today, enter the limelight either because one of their creatives went viral or that their webpage was ranked high on search engines.
What makes one webpage better than the other? Is it the services offered? Not entirely. There is an abundance of web pages that offer equally good services. What makes one brand stand out amongst its competitors is the written content they communicate to its audiences.
Content writing has now become one of those jobs that will always be in demand. More and more businesses are cropping up every year, and each of those businesses would do well to hire a freelance content writer to boost their visibility.
As a writer, the moment you decide to tap into the market to build your freelance content writing career, the whole world is at your stage. Freelance gigs have become a lucrative stream of revenue. No matter where you reside, how many ever hours a day you wish to work, or even at what time of the day you want to work, there's no dearth of projects on freelancing sites.
Almost every business worth its salt has its own webpage, and that means more content-writing prospects for you!
What's more, is that you don't need to limit yourself to working with clients in your country. A freelance content writer in India could be making big bucks by dedicating themselves to the profession and establishing a steady practice of inviting global clients to hire their services.
If you are a writer, looking to make the most of the digital space and don't know where to start, keep reading for a foolproof guide to kickstarting your freelancing content writing career in India. For those who are ready to hustle, success is but a stone's throw away.
Build a Freelance Content Writing Career – Step By Step Guidance
No matter who you ask, every freelance content writer will direct you through the same mundane steps to get your foot in the door. It may be trite, but it works.
1. Know What You're Getting Into
Before you let the excitement of embarking on a new venture overwhelm you, read up about the freelance content writing scenario today. Don't skimp on the research. You do not want your freelance content writing career to plummet before it's even taken off.
2. Choose Your Niche
Being the "Jack of all Trades" may help you in some circumstances, but here, it is important to hone your skills in specific domains. One of the first steps you should focus on is understanding what kind of niche content you want to focus on.
There are a lot of categories to choose from; some of the most popular ones are healthcare, online marketing, technology, education, and banking.
3. Take up Online Courses
Now that you've decided what content you are going to specialize in, it is time to learn as much as you can about it. You no longer have to invest a lot of time and money into rigid college programs.
Online courses are all the rage today because they are a lot more affordable, tailor-made to your interests and qualifications, insightful, and easily accessible. Take up a course or two. It'll definitely enhance your pitch to a client.
4. Understand How to Write for Online Audiences
Even if you have become well-versed in your domain, your content writing services hold little value if you do not know how to target online audiences.
It is not the same as writing for offline media. Luckily for you, Hubspot has a Content Marketing course that will prep you on how to have online audiences clinging to every work you write. Trust us, this skill is a must-have for a successful freelance content writing career.
5. Keep up the Pace
Once you've got the basics down, all you need to do is put yourself on the market. Make your services discoverable and reach out to clients.
Start small with short-term projects and build your portfolio over time. The more projects you take up, the sooner you'll build a network of long-term clients who trust you and would prefer to hire you for their recurring content-writing requirements.
Different Forms of Content You Should Master
There's more to the preparatory stage than just deciding your fields of interest. Keep in mind that every project could be different.
In your freelance content writing career, you may have the opportunity to write different forms of content such as whitepapers, web copies, blogs, etc. Not only do they vary in terms of the style of writing, but they are targeted toward different segments of the audience.
1. Targeted Blogs
Targeted blogs help push a certain product or service in a more casual and reader-friendly manner. They can be long-form and contain multi-media content which aids the reader in grasping the overall message.
When you get down to writing such a blog post, you should keep two pointers in mind – firstly, make sure it doesn't sound general and vague, especially since they are meant to cater to a very specific group of people. Secondly, draft a content strategy that will make the blog successful in generating leads for the business.
2. Newsletters & Emailers
A newsletter is integral to a business because it lets a brand keep its customers up to date. If you want to maintain a loyal customer base, send out drip emails regularly and keep the customers in the loop.
It often contains reports regarding business activities and some behind-the-scenes information. It is important to ensure that newsletters are written in a brief but insightful and engaging manner.
Whitepapers/Ebooks
The first time you heard the term 'whitepaper', you may have gotten a little flabbergasted. But once you understand the gist of it, it's not really complicated to write whitepapers that bring value to the readers. They are informative guides that address a concern and also provide a solution to it. The writing style used in a whitepaper is crisp, formal, and factual.
Case Studies
A freelance content writer, prepared to work on a case study, must be ready to carry out extensive research. Case studies are written as part of a research process to understand the relationship between some variables. They are analytical texts that investigate an event, a group, or an individual. It takes some practice before you can become an expert in writing case studies.
Suggested Reading: How to Become a Freelance Content Writer in India
Website Copy & Landing Pages
Lastly, web copy. A copy is a piece of content that is used for marketing purposes and to boost sales. Copywriters are creative thinkers and can use words to their advantage.
Web copies should be concise and eye-catchy, and it always pays to think out of the box. That said, clients prefer a freelance content writer who can stick to the given brief. So, keep that in mind.
How To Get Clients As a Freelance Content Writer?
A freelance content writer in India may find it a tad bit difficult to first begin signing with clients. That is because many renowned organizations are less likely to work with individual contractors due to credibility reasons.
And even if you manage to strike those first few deals, the chances are that you'd be neck-deep trying to understand all the nitty-gritty of the procedure, the legalities, and constantly having to follow up on payment releases.
That can be a lot for a person who is handling everything on their own. As a freelance content writer, you could benefit a great deal by joining WittyPen and starting to work on high-quality projects to build your freelance content writing career.
We not only bring the best clients to you but also ensure that there's regular work available for those who are willing. With WittyPen, your only focus is to write as frequently as you desire.
All other compliance requirements are hashed out on our end, between the client and us. We even work with agencies to collate the necessary information; thereby, saving you a great deal of time.
Our team is equipped with talented in-house editors who perform quality checks so that your work is above par. Moreover, all the sales and marketing processes are taken care of by us. So, you can forget the tedious cold calls and cold emails to clients. We bridge the gap between the talent and the talent-seekers.
Conclusion
Building a freelance content writing career is equally difficult and rewarding, and you should start by strengthening your skills and then working with platforms like WittyPen, Upwork, or even LinkedIn to get content projects.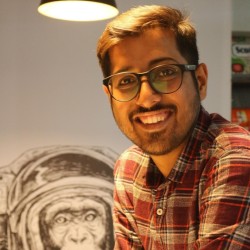 Latest posts by Anshul Motwani
(see all)