As we gear up for the second quarter of 2020, email marketing remains a prominent force in the world of digital marketing. Just take a look at the following statistics, and you will know why:
Globally, the number of email users is set to sky-rocket from 3.9 billion in 2019 to 4.3 billion by 2023.
A staggering 293.6 billion were sent and received every single day in 2019 alone.
You can expect an average return of up to $42 for every $1 you spend on email marketing.
After witnessing so many social media channels and marketing platforms over the years, who would have thought that email marketing will continue to dominate with such insane results?
But that doesn't mean we have the liberty to take it for granted. The choice of your email marketing tool or service can have a significant impact on its success. So let's settle this dilemma with a close look at the leading tools in the space today:
How to Choose the Best Email Marketing Service?
Before we delve into the list of the best email marketing services and tools, let's take a look at the ingredients that make up a good email marketing tool:
Price: This is an obvious one. The tool you choose must fit your budget, should not be overpriced, and should give you the maximum bang for your buck!
Ease of Use: Fast implementation, quick learning curve, great support, and reliable documentation is what you need to look out for. A powerful tool with a flawed framework will only eat away at your productivity!
Deliverability: Deliverability refers to the way email marketers protect their content against potential interferences such as spam issues, ISP policies, bounces, and more. The right tool understands and leverages this.
A/B Split Testing Tools: Your tool should enable you to A/B test your emails with different versions of the same tool within a pool of email subscribers. This will help you figure out the version that performs the best, potentially sky-rocketing your ROI. Elements that can be A/B tested include the CTA, Subject Lines, and even Images.
Analytics and Reporting: Without proper analytics, email marketing is nothing more than shooting arrows in the dark. The right tool should be able to collect and sift through all the necessary information pertaining to your email marketing campaign.
Automation tools: Thanks to AI and Automation, we no longer have to do redundant marketing work such as welcome emails and drip campaigns. Figure out the automation needs of your business before you go shopping!
Form Builder: Forms are the heartbeat of any serious marketing effort, especially if the aim of your campaign is to capture the copious amount of prospect data. Your tool should have relevant templates for every need.
Integration: Is your tool able to integrate with the existing marketing ecosystem? Not only will this bring different marketing teams on the same page, but it will also end up boosting the ROI of the marketing campaigns!
Best Email Marketing Tools To Boost Conversions
So let's get down to it and take a look at the top 10 bulk email marketing software and services you can use in 2020 to boost both the quality and quantity of your reach.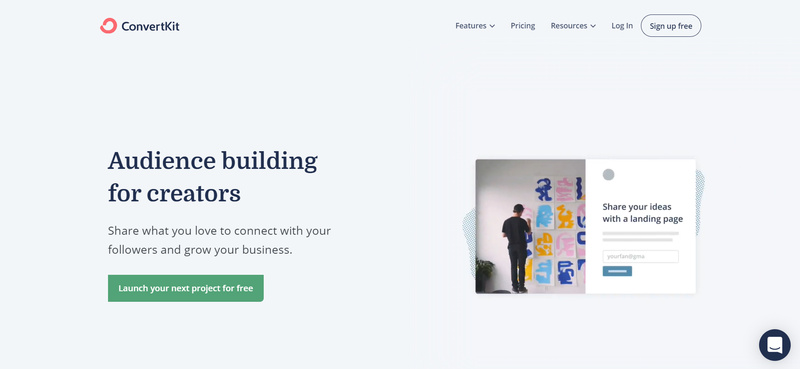 ConvertKit is a relatively new entry as an email marketing tool that delivers well for content creators, such as Bloggers. Its simple user interface is what makes it unique.
At a time when other tools are trying to make emails as appealing as possible, ConverKit stands out by focusing on Text-based emails.
This 'lite' approach helps your emails reach as many accounts as possible since spam filters are easily avoided. The result? Higher open rates and more conversions.
With just a few clicks, you can launch a campaign, make a new landing page, alter your marketing sequence, send out a broadcast email, or even import subscribers into a custom audience.
Most of the features of ConvertKit are designed for more ease of use than power. It comes with four landing page templates that focus on lead generation. As a blogger, these should be more than enough for you. But if you are a PPC marketer who is looking for more power in terms of landing page customisation, you may find the tool limited.
With the Automation features, you can create rules that trigger a certain action(s) based on the interaction of the user.
Following certain user action(s), ConvertKit can be programmed to accordingly add the users to a new course, or tag them as a part of a custom audience.
Starting Price: $29 per month
Free Trial: 14 days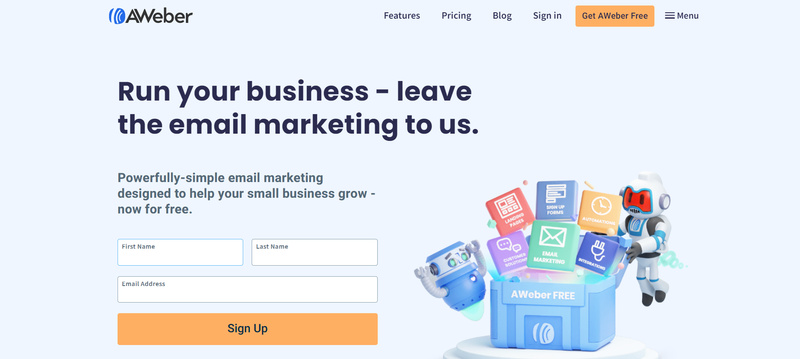 Aweber is one email marketing tool that can be used to carry out all sorts of experiments to pinpoint the best marketing strategy that works for you.
One of its best features is its ability to split test opt-in forms by running multiple versions against each other to determine which one is converting the most.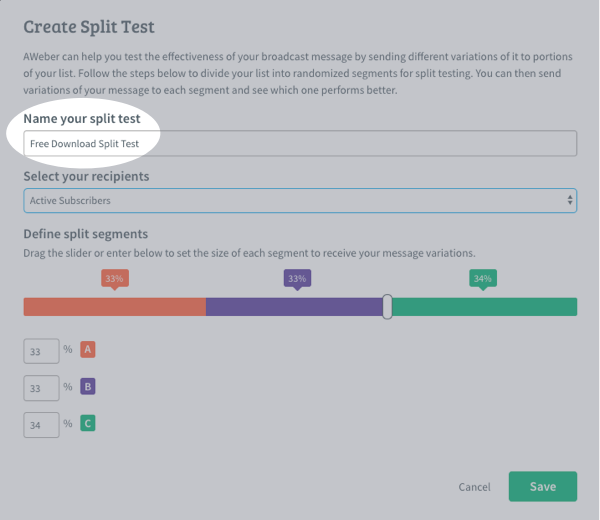 You can simply design the form in its generator and then install the code on your website.
Another unique feature is to seamlessly upload existing databases - even adding subscribers to a particular set of autoresponders while you are doing so. This is one coveted feature that many other tools lack.
Aweber also sports one of the largest sets of e-newsletters templates - more than 700! This makes it fairly easy to find the most suitable one for your campaign.
Like other similar tools, Aweber can turn your website's RSS feed into e-newsletters that are sent according to a pre-defined schedule. However, you can only choose from a set of templates that are specifically designed for RSS-to-email purposes.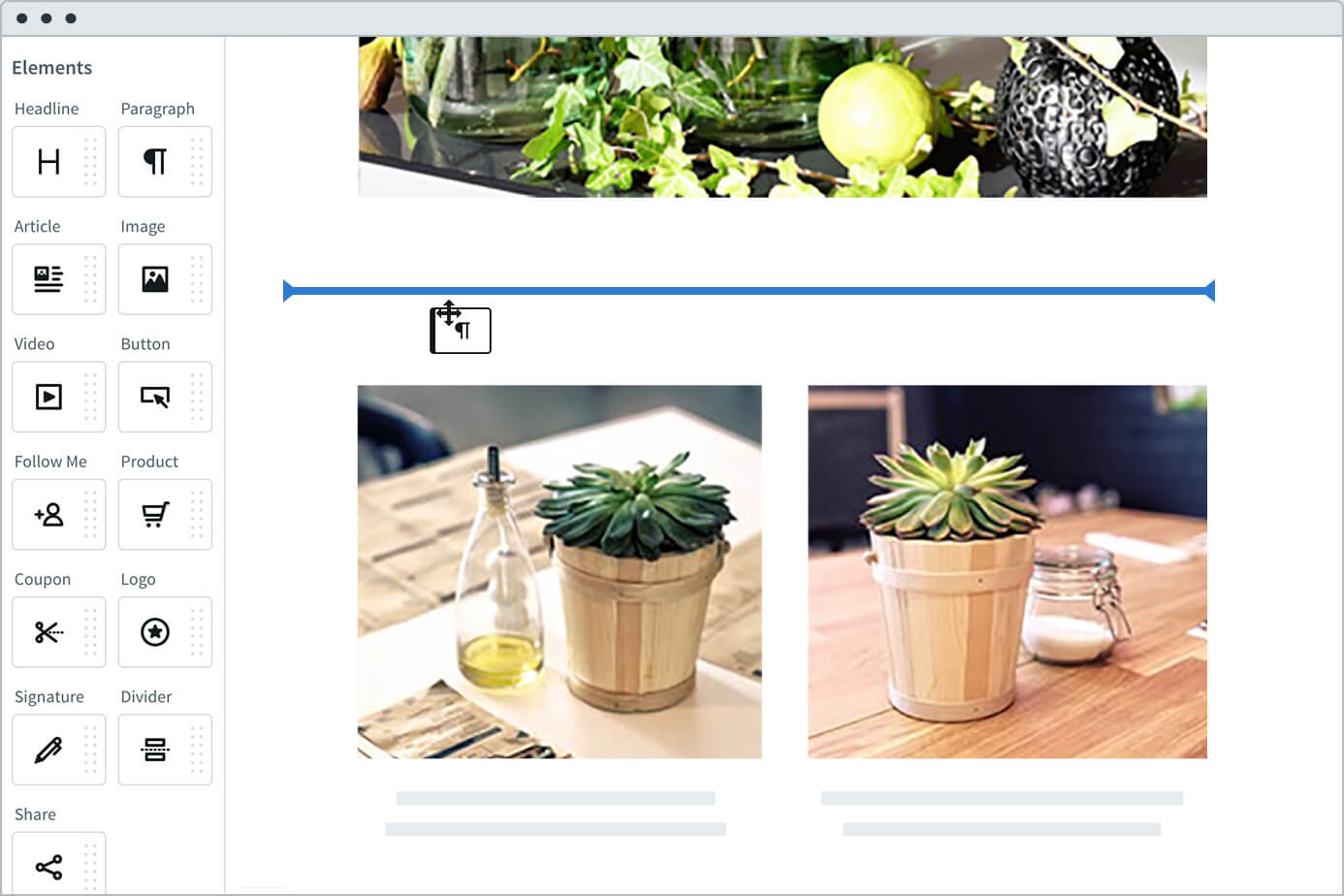 When it comes to Autoresponders, Aweber outperforms others by making it very easy to set up follow up emails on the basis of time intervals. You can even create 'goals' and make the tool behave in unique ways by combining automation rules with tagging.
Although the downside is that users might find it a bit complicated to trigger autoresponders based on user actions and purchases.
Recently, Aweber introduced a feature known as 'Aweber Campaigns' that can be used for certain user actions, such as open and clickthroughs, to pinpoint the best audience and time of sending outbound emails.
Starting Price: $16.15 per month
Free Trial: 30 days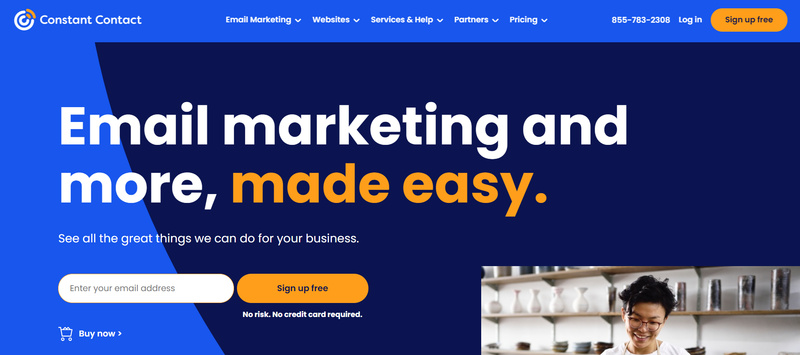 Constant Contact is one of the oldest players in this space. Today, it boasts a user base of over 650,000! What makes it stand out is that it is not just an email marketing tool, but, instead, comes packed with the capabilities of an event management tool, survey tool, and social campaign tool.
Their email marketing vertical is perfectly suited for small to medium-sized businesses. It has all the usual features, including easy to deploy templates and the drag and drop editor, making it super easy for you to create, customize, and send professional emails as per your industry.
It is also one of the few tools that allow users to easily manage their upcoming events via direct Eventbrite integration.
The tool is also known to offer some of the highest deliverability rates among the industry (it claims 98%). This can come in really handy if you have an email list that spans thousands of contacts where even a 1% deviation in deliverability can have a significant impact on revenues.
If you are not looking for powerful automation features, this tool can work for you. It is packed with basic features such as autoresponders and abandoned cart campaigns - although the workflows are rigid and conditions or actions cannot be combined.
Starting Price: $20 per month (Lite version with limited features)
Free Trial: 30 days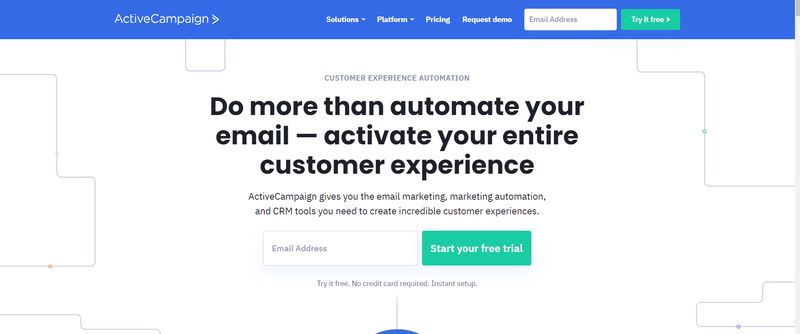 Active Campaign makes itself stand out by projecting itself as a true marketing automation tool. It combines capabilities like email marketing, marketing automation, sales CRM, and messaging into a single power-packed bundle. The result is that you get all the necessary tools you need to run your business without having to pay separately for each one of them.
It also offers thorough reporting capabilities that leverage click-maps, geo-tagging, and even purchase tagging (although it is limited to the higher plans for Shopify, BigCommerce, and WooCommerce). Based on the results, you can accordingly automate lead nurturing campaigns.
The tool does not stop there and is the most feature-intensive tool on the list. Other major features include advanced reporting, integrated forms, site tracking, training and support, migration services, Gmail extension, email segmentation, measurable automation goals, and iOS app.
If all this is egging you on to migrate to the tool, don't worry. In yet another unique offering, you can avail a free expert migration service, saving you up to 6 weeks of work. Here's what they can do for you:
Import your lists, contacts, custom fields, and tags
Recreate your automation workflows
Recreate opt-in forms
Recreate email templates
While everything looks good on paper, the only downside is that it may be too feature intensive for users who prefer simpler options. So use the trial period to the fullest to determine if this is the right deal for you!
Starting Price: $15 per month (lite version)
Free Trial: 14 days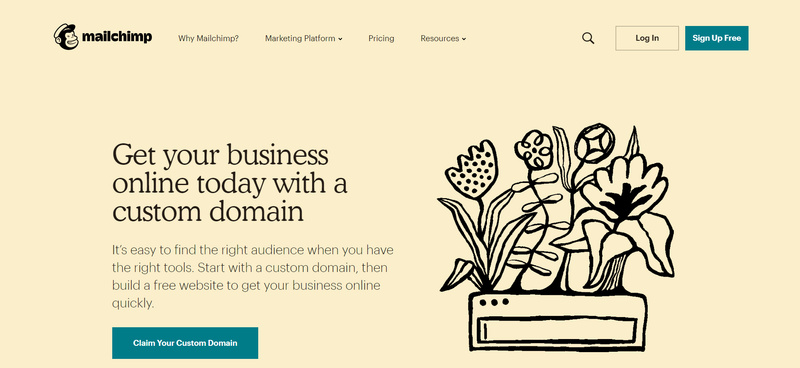 You must have surely heard of this one. MailChimp is probably the most popular name in the email marketing industry, claiming to send more than 600 emails on its platform every day!
You can use it to create unique campaigns that are highly targeted, along with automating redundant work that eats away at your time. The best part about MailChimp is that it does what it promises - delivering emails to your customers' inboxes at an affordable price. It is known for it's elegant and simple-to-use dashboard that comes with all the necessary features.
The reporting capability is quite sleek and includes clients, geo-tagging, social media, and Google Analytics integration. And talking of integration, Mailchimp boasts the best capabilities in the arena by offering hundreds of integrations, including even niche applications.
But what truly makes MailChimp different is the ability to create Google Remarketing ads, Facebook Ads, and Instagram Ads within a few easy steps to bring shoppers back to your website and boost sales.
Another unique feature is segregating your audience into different language speaking verticals. Emails can then be auto-translated into these languages with the help of Google Translate.
Though there is no spam testing available, the smart bounce management feature immediately removes hard bounces, while resending soft bounces for 3 days.
Another important point to note is that MailChimp has policies in place that prohibit affiliate marketers from using the tool, including penalties such as account cancellation. So if you are into affiliate marketing, you might want to ignore MailChimp altogether.
Starting Price: Free version
Free Trial: Up to 2000 subscribers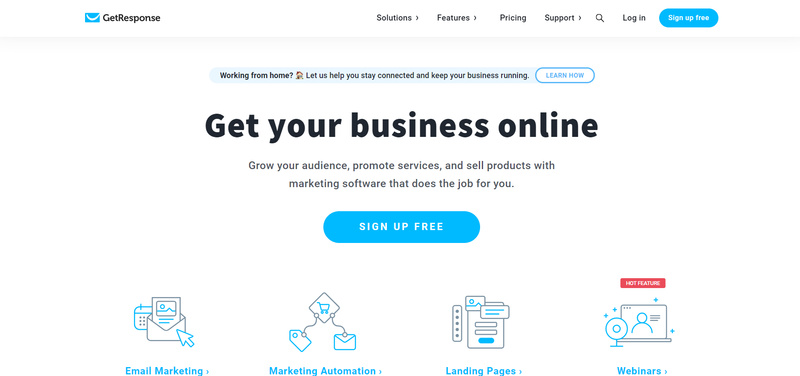 GetResponse is powered with one of the best email marketing workflows in the industry. And over the years, we have seen it evolve into a unique 'all-in-one' marketing solution. Also, it now provides webinar hosting, landing pages, as well as some CRM functionalities.
If you like an email marketing service that allows you to house all your contacts, GetResponse is your answer. You get tons of templates with the ability to maintain multiple lists and sift through your contacts based on various parameters.
But what makes it truly stand out is its comprehensive analytics and reporting options. While it obviously includes the basics, such as open rate, click-through, and unsubscribe rates, it takes the game one step ahead with advanced features such as:
'One-click segmentation' that identifies subscribers who did not engage with a particular e-newsletter. They can then be later retargeted with a different version of the newsletter.
'Metrics over time' tells you exactly when most of the subscribers take action on the emails, enabling you to accordingly time future emails.
'Email ROI' feature that sports a tracking code to the post-sales page on your site, helping you to figure out the effectiveness of your email marketing campaigns at driving sales.
'Per-user information' lets you click on one of the subscribers and see their journey. This includes where they signed up from, which emails have they engaged with in the past, and where they are located.
Starting Price: $15 per month (beginner package)
Free Trial: 30 days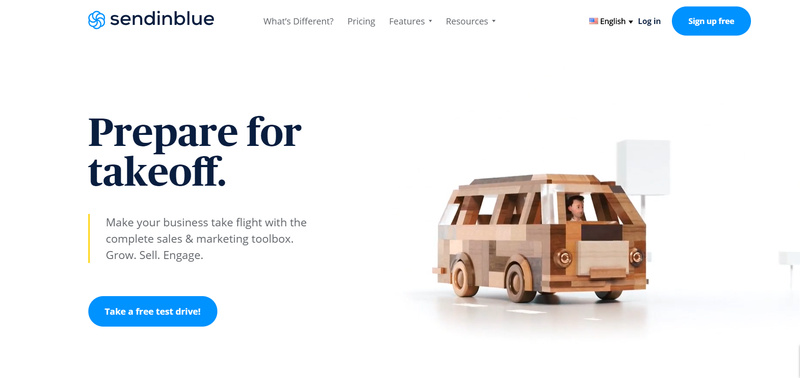 SendInBlue is one of the most popular transactional services who now also have an email marketing automation product. At a time when email marketing tools tend to get more expensive as you scale, SendInBlue stands apart from the crowd. It is easily on the most-affordable end of the spectrum and one of the few providers that are consistently priced. If you plan to scale your marketing efforts in the near future, you should definitely take a look at it!
It is also known for its efficient developer API that can make it super easy for you to integrate it into your applications.
Although the performance monitoring capability includes tracking the usual metrics such as open rates, click-through rates, and deliverability, its the presentation of the data, which is unique. It gives you a detailed analysis via real-time statistics via advanced reports, including even heat maps!
The Transactional Email and SMS feature is another unique ability of the tool that makes sure customers receive all important notifications such as welcome SMS, order confirmation messages, shipping, and delivery information tracking.
You can even sift through logs of historical transaction emails and messages to unearth specific insights. And when you do send messages SMS to your customers, the tool intuitively feeds you back delivery statuses and engagement metrics.
All this and more makes SendInBlue an affordable tool that is a great alternative to MailChimp, making it particularly useful for small businesses.
Starting Price: Free
Free Trial: Free for up to 300 emails/day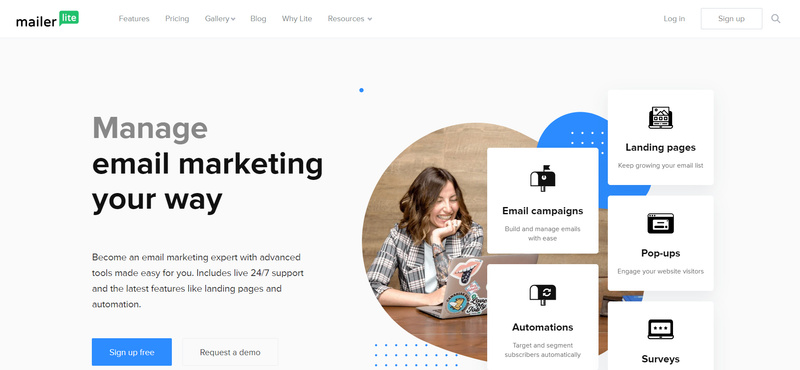 Mailerlite is another new entrant on our list. While it does not come with the bag of features that tools such as Aweber boast, it instead focuses on delivering essential features at the best possible price.
In fact, its simplicity is what makes it popular! Maybe this is the reason that it is also available in multiple languages while being packed with flexible templates that you can use to create minimalistic email marketing campaigns.
It is also one of the most global tools out there and is available in 8 languages in terms of both interface and support!
The 'Free Forever' plan is a super deal for casual users and includes advanced features such as Automation, Contact tagging, and Segmentation (though it lacks newsletter templates). A unique feature of Mailerlite is the ability to easily create a landing page that can be hosted on the tool's service itself or on the choice of domain of the user.
But even after being a new and lite entry, the tool is packed with unique personalization and advanced targeting features. This is executed via custom fields based on the information you have about the recipients. There is no limitation to the number of fields that you can add.
With the ability to personal touches such as the subscriber's hometown, company, or even a pre-header text, crucial email metrics can be significantly boosted.
Starting Price: Free
Free Trial: Free for up to 1,000 subscribers of 12,000 emails per month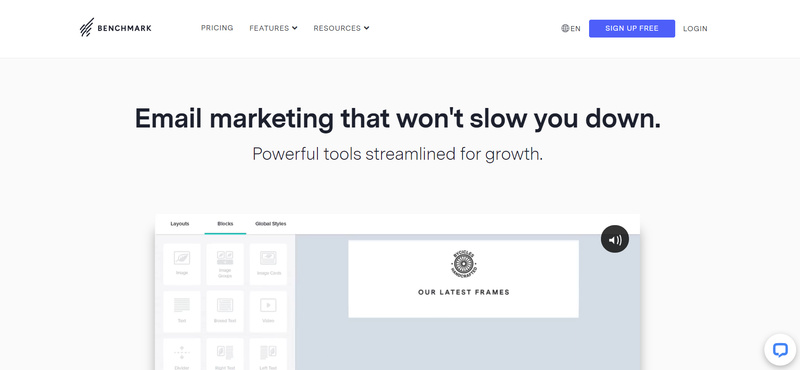 Benchmark Email is another simple but elegant tool that has a fairly easy learning curve, making it perfect for users who are new to email marketing. If you are running low on budget, this can be a smart choice since you don't have to pay a penny for up to 2000 subscribers.
Its easy-to-use email editor is one of the best in the industry and is complemented by many high-quality templates.
If you have an e-commerce store and are a fan of automation, Benchmark allows you to set up behavior-based email marketing campaigns that can be particularly targeted towards cart abandonment to boost sales.
Apart from this, the tool also packs features related to event marketing, polling, and surveys.
All in all, if your email marketing campaigns are limited to sending emails to a list of established customers, such as quarterly sales discounts or holiday offers, Benchmark Email can be a perfect fit.
Starting Price: Free
Free Trial: Free for up to 2,000 subscribers and 14,000 emails per month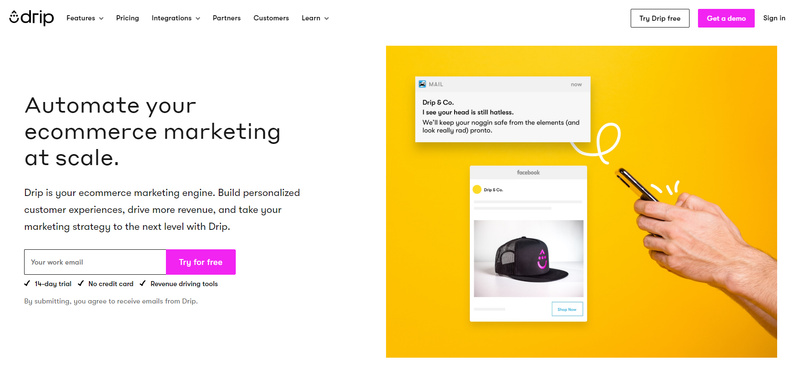 Drip is the latest and the hottest entry in the email marketing space (out of the tools in this list), with their primary users being bloggers, marketers, and e-commerce websites.
The core functionality of Drip is to fill the voids created by tools such as MailChimp. Here's how the tool differentiates itself from its counterparts. Instead of dealing with 10 different lists, Drip puts all your contacts in a single repository and uses 'tags', 'fields', and 'events' to define the relationship of your marketing efforts with the relevant contacts.
For instance, you can have a tag for webinar attendees and another for newsletter subscribers. An immediate result of this change is that you no longer have to duplicate contacts across multiple lists and receive a more unified profile of customers.
Another unique feature is to set up custom conversions and track them accordingly, including how they are affecting your campaign's bottom line.
But automation is where the true power of the tool comes into play. You can create triggers based on really specific action points of users.
For example, if they land on a particular page, Drip creates a trigger link that you can later use in your emails. As soon as it is clicked, a trigger will be created, and a related action can be set accordingly to be fired as soon as this happens.
Starting Price: $49 per month
Free Trial: 14 days
Conclusion
This brings us to the end of the blog. If you are still confused about which tool to use, begin by determining the number of contacts that you have. You can then make a well-informed decision!
Have you used any of these tools before? Which of these do you find the best? Share your views in the comment section!